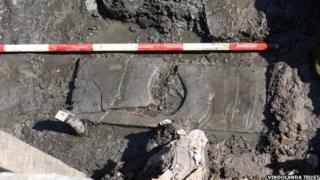 Vindolanda Trust
Archaeologists have discovered a 2,000-year-old, perfectly preserved wooden toilet seat at a Roman fort in Northumberland, England.
Experts from the Hadrian's Wall dig think it dates back to the 2nd Century and is the only find of its kind.
The site, near Hexham, has previously revealed gold and silver coins and other artefacts of the Roman army.
The seat was found in a muddy trench that had been filled with rubbish.
'Perfectly preserved'
Dr Andrew Birley, in charge of excavations at Vindolanda, said: "We know a lot about Roman toilets from previous excavations at the site and from the wider Roman world, which have included many fabulous Roman latrines.
"But never before have we had the pleasure of seeing a surviving and perfectly preserved wooden seat".
He went on to say that many examples of stone and marble toilet benches existed from across the Roman Empire, but this is believed to be the only surviving seat to be made out of wood.