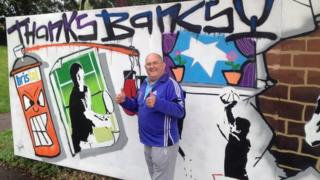 A mural has been made to say thanks to graffiti artist Banksy, for donating his work to save a youth club.
Broad Plain Boys' Club in Bristol has sold the picture Mobile Lovers, which appeared in a doorway in April and caused a row over who owned it.
Banksy then wrote to the club to say they could have the artwork.
The "Thanks Banksy" mural, created jointly with the Young Bristol Creative Team, will go on display next to the club.
Read more: Guide - Who is Banksy?
'Saved the club'
The Banksy picture - which shows a couple kissing while checking their mobile phones - has been sold to a private collector for enough money to keep the club open for "a few years".
Dennis Stinchcombe, who works with the club, said the art had saved the club which would have otherwise "definitely have shut within the next 12 months or so".
The money raised by the sale will help the club continue its "valuable work with the young people of Bristol," he said.
The club share some of the money with a number of other charity youth clubs in the city.