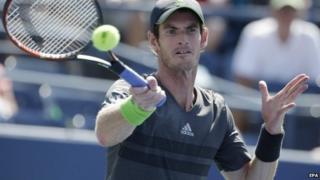 EPA
Andy Murray said his body let him down as he suffered with cramp in his opening match against Robin Haase at the US Open.
The Briton won 6-3 7-6 (8-6) 1-6 7-5 after three hours and eight minutes on a hot afternoon at Flushing Meadows in New York City.
But the start of the third set saw him start to struggle and he was in danger of a shock first-round exit.
"I was in a good position, and then my body failed me," Murray told BBC Sport.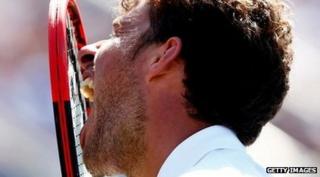 Getty Images
"I panicked, because you don't know what to do. I got [my serve] broken at the beginning of that third set, and you think: 'What do I do? Do I try to conserve energy or do I try to finish it in three sets?'
"I don't really know how I managed to get through."
Serve troubles
Andy said he felt cramping in several parts of his body and he couldn't serve at much more than 100mph in the third and fourth sets - a good 25mph off his usual pace
"It's the worst I have ever felt after an hour and a half of a tennis match," he added.
"I've played four-and-a-half, five-hour matches and felt pretty awful afterwards, but not after an hour and a half.
Murray will play German qualifier Matthias Bachinger in the second round on Wednesday or Thursday.