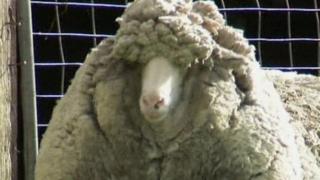 Extra woolly sheep never had haircut
A extra woolly sheep has been found by two farmers in Australia.
The sheep - which has been nicknamed Shaun - is thought to have been wandering in the wild for six years.
His fleece may never have been cut and it has grown so big it's hard for him to see.
It is estimated that his coat weighs 20kg (44lbs)!
Peter and Netty Hazel, the farmers who found and adopted him, say they plan on shearing Shaun to see if he can break the record for the most fleece-yielding animal.
Watch more Newsround videos