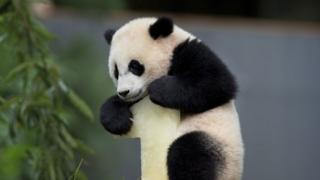 First birthday for panda cub Bao Bao
Celebrations have been under way for an unusual first birthday in Washington DC, USA.
Bao Bao, the female panda cub, seemed unfazed by the crowds who had come to help her celebrate her first birthday.
For her birthday, Bao Bao received several items, including pictures of peaches and bamboo, symbolizing longevity and good heath as part of the Chinese tradition of Zhuazhou, the zoo said.
The BBC's Nuala McGovern sent this report.
Watch more Newsround videos