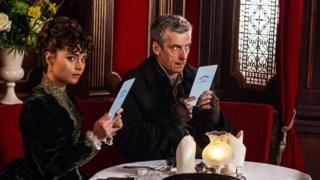 The new series of "Doctor Who" finally hit out screens last night on BBC One.
It was first chance for fans to see what Peter Capaldi's Doctor would be like.
The Scottish actor took over from Matt Smith as the 12th incarnation of the Doctor.
He's been a fan of the show since he was a child - and says he feels the responsibility of stepping into such an iconic role.
We want know if you tuned in to watch the new episode and your reaction to it.
What did you think about the new episode of Doctor Who?
Was the first episode exciting? Did you find it scarier than the last series?

What did you think of the new Doctor Peter Capaldi?

Are you now looking forward to the rest of the series?
Your comments
I loved last night's episode and was totally hooked onto the plot, which was jam-packed with action and excitement. I really like the new Doctor and Clara but it will take a bit of getting used to because I really liked Amy, Rory and the Old Doctor. Overall, I really enjoyed it and will definitely be watching again next weekend!
Eleanor, Gloucestershire, England
Last night's episode was amazing! I think it was a great choice of making Peter Capaldi the Doctor because he brought something different to the character but there were still some elements that were the same. Overall, I loved it can't wait to watch the rest of the series!
Iqra, Dagenham, England
I thought it was very funny and had good twists. Strax was hilarious! But my family and I thought changing the theme song slightly was a bit too much. Peter Capaldi was very good at being the Doctor and I can not wait to see the next episode!
Chloe, Grimsby, England
I am surprised at all the praise. We thought it was a load of rubbish!
Elsie, Barnstaple, England
The most amazing Doctor Who episode I've ever seen!
Jake, Telford, England
It was very exciting to see the new doctor but I felt the episode didn't have much of a plot, it was all over the place. I am not the biggest fan of Peter Capaldi but I will see if he grows on me.
Hannah, Dinas Powys, Wales
I liked it because it kept you hooked all the way through. I have big hopes for Peter as the new Doctor
Jessica, Hartlepool, England
I really enjoyed the episode 'Deep breath'. I thought it was a great introduction to the twelfth Doctor. The story was very dark and scary and I loved the special effects they used.
Adam, Blackpool, England
Peter you did a great job. Well done man! I think you should come to my house one day and we will watch Doctor Who together.
Sam, Northampton, England
I was never really interested in Doctor Who but when I watched it last night it was great. I am definitely going to be watching it again next week. I do think that the previous theme tune is better than the new one.
Olivia, Cambridge, England
I thought that the start was just boring. I didn't like how Peter Capaldi acted. I got so bored that I turned off the TV. I hope the next episode is more action packed.
Isabelle, Totnes, England
The new Doctor seems to be extremely mysterious, and last night's episode was amazing! It was really exciting and I loved how Peter Capaldi acted! I think he will make a brilliant Doctor and I am really looking forward to seeing him in future episodes!
James, Canterbury, England
It was the first time I watched Doctor Who and I loved it. It made me laugh when Clara couldn't get over the Doctor's new appearance.
Penny, Leicester, England
Peter Capaldi wasn't as funny as Matt Smith but he gave it a good try.
George, Southwick, England
We thought it was really funny! Strax was the best because he made us laugh so much we fell off the sofa.
Mitchell and Connie, Shropshire, England
I didn't really enjoy it that much because it was very freaky, scary and weird.
George, Bedfordshire, England
I thought it was really thought provoking and interesting, and it really hooked you in from the first scene. I didn't however like the new title screen and theme tune.
Amber, Leicester, England
The new Doctor is not how I expected him to be. He's so weirdly awesome. After this episode, I feel like the whole series would be a lot more enigmatic and adventurous. Peter Capaldi brought back the classical essence to this show! I'm so excited!
Zainab, London, England
As a massive Doctor Who fan, I don't think anyone can compete with David Tennant. But I can't decide about Peter Capaldi. It's hard to understand what he's saying. I hate the new opening titles. Strax made me laugh the most!
Jennifer, Stanmore, England
A bit scary at times but overall it was funny and I love the new doctor.
Peter, Galway, Ireland
I really loved it. Strax was my favourite character. But they kept going on about how old he is, his hair and features. Like Clara, I'm giving this Doctor a chance to show me what he's like.
Grace, Manchester, England
Last night's episode of Doctor Who was amazing. I liked how Peter Capaldi kept his Scottish accent. It was nail-biting while Clara was holding her breath.
Aoife, Cavan, Ireland
This chat page is now closed.