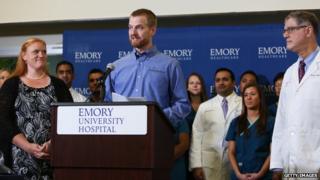 Getty Images
Two American aid workers who fell ill with ebola have left hospital after recovering.
Dr Kent Brantly and Nancy Writebol were working in Liberia in Africa, when they caught the disease.
They were both flown to the US for treatment three weeks ago, where they were kept in isolation in an Atlanta hospital.
Doctors who treated them say they no longer show any signs of the disease and pose no threat to the public.
Experimental drug
Whilst in hospital, they were both given an experimental treatment known as ZMapp. The drug, which has only been made in limited quantities, had never been tested on humans before and it's unclear whether this helped in their recovery.
The ebola outbreak, which there is no cure for, has killed more than 1,300 people in West Africa, with many deaths in Liberia.