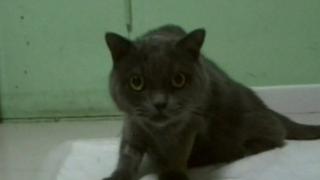 Cat stuck in chimney for 53 days
Yao Yao the cat has had a lucky escape after getting stuck in a chimney for 53 days.
The two-year-old was on the roof of a building in China when he fell into a chimney and was trapped.
After numerous rescue attempts failed, everyone feared the worst but when a neighbour heard strange noises from a fan and called in maintenance workers, out popped Yao Yao.
He's now recovering in an animal hospital and should be fully recovered in a week.
Vets say that they think his excess fat helped him survive.
Watch more Newsround videos