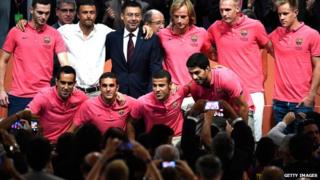 Getty Images
Barcelona will be unable to sign players until January 2016 after world governing body Fifa rejected the club's appeal against a transfer ban.
The Spaniards were given the 14-month ban in April after being found to have broken rules on signing international players under the age of 18.
But the club put in an appeal against the decision, which led to the ban being temporarily suspended.
This allowed the Spanish giants to sign Uruguayan striker Luis Suarez for £75m from Liverpool, as well as a number of other players.
The ban will officially start in the next transfer window, which opens early next year.