Scientists in Iceland have warned that one the country's biggest volcanoes is showing signs it may erupt.
They've issued an "orange" alert, the second-highest level, meaning there's "increased potential of eruption".
If the Bardarbunga volcano erupts, it could lead to flooding or might throw out clouds of gas, the experts say.
Iceland's Eyjafjallajokull volcano erupted in 2010, producing an ash cloud that caused huge problems to Europe's airlines, grounding many flights.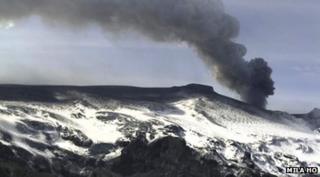 MILA HO
Hundreds of thousands of passengers were stranded in airports for several days as planes were not allowed to fly across much of Europe.
Earth tremors began in the area at the Bardarbunga volcano on 16 August, and there was a strong earthquake there early on Monday, officials said - the strongest quake seen for 18 years.
While "there are no signs of eruption," they can't rule out the possibility that one might occur - and if it did, there might be an ash cloud spewed into the sky.
Iceland's volcanic experts are continuing to keep a close eye on the area.