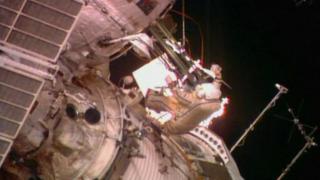 Russian cosmonauts go on spacewalk
Two Russian cosmonauts have set off on a spacewalk from the International Space Station (ISS) to launch a nano-satellite.
Flight engineers Oleg Artemyev and Aleksandr Skvortsov launched a small satellite named Chasqui I.
It is a joint project between the Russian Federal Space Agency and the Peruvian government.
The two cosmonauts, which is the Russian term for astronauts, are also carrying out maintenance on the ISS during the spacewalk.
Watch more Newsround videos