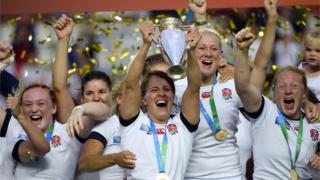 World Cup winners chat to Newsround
England won the Women's Rugby World Cup on Sunday for the first time in 20 years.
Head coach Gary Street says the 21-9 victory over Canada was a "huge relief".
It's the second time England have won the tournament. The team beat the United States in the 1994 final.
Fresh from returning to Britain after their triumph, English captain Katy McLean and vice-captain Sarah Hunter popped into the Newsround studio.
Watch more Newsround videos