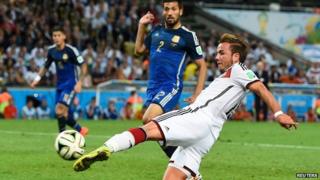 Reuters
The Premier League wants to stop football fans posting unofficial videos of goals on the internet.
Thousands of short goal clips were posted on social media sites and apps during the World Cup.
The Premier League says posting videos of goals is illegal and is warning supporters not to do it.
TV companies and newspapers pay millions of pounds to broadcast football matches.
They don't want people to be able to see the action for free somewhere else.
Dan Johnson, director of communications at the Premier League, told Newsbeat: "You can understand that fans see something, they can capture it, they can share it, but ultimately it is against the law."
He added: "I know it sounds as if we're killjoys but we have to protect our intellectual property."