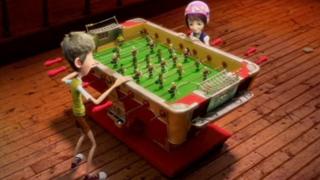 The Unbeatables' Lara chats to Martin
It won Best Animated film at the New York International Children's Film Festival and hit the big screen on Friday 15 August.
The Unbeatables is a new animated film about Amadeo, a young man with an extreme skill: he's the best table football player ever.
But when Amadeo beats the village bully Flash at foosball that's when things really kick off!
Martin chats to Eve, who plays the voice of one of the characters Lara in the movie.
Watch more Newsround videos