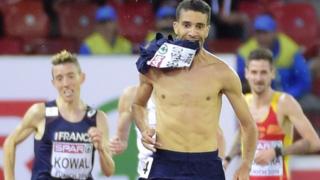 Champion disqualified for removing shirt
French steeplechaser Mahiedine Mekhissi-Benabbad has been disqualified and stripped of gold at the European Championships for removing his shirt during the race.
The controversial athlete took off his vest when closing in on the win, jumping the last hurdle with the shirt in his mouth.
The Spanish team raised a complaint which was upheld and Mekhissi-Benabbad was disqualified from the competition.
Watch more Newsround videos