William, Harry and George are all among the top ten most popular names for baby boys in England and Wales last year.
The Office for National Statistics has put together a list of the most popular names given to babies in 2013.
George rose two places to become the 10th most popular boys' name last year, behind Harry in third place and William in eighth.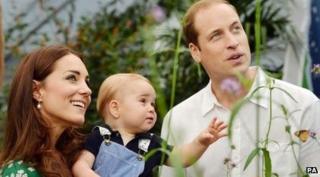 PA
It shows that royal names such as those of the princes still have a big effect on what parents call their kids.
Oliver and Amelia were overall the most popular names for boys and girls in England and Wales last year.
Amelia has been the top girl's name since 2011, but this year Poppy replaced Lily in the top 10.
Those top 10 names in full
Thanks for sending us your comments. This chat page is now closed.
Your Comments
My name is Demet, it's a Turkish name that translates as "Bunch". It's close to the name Demi which is what everyone in England calls me. I'm also the first Demet/Demi in my family line so far.
Demi, Cyprus
My name is special because I'm named after my great granny and not many people have the name Emmy. When I was about six I also found out it was an award!
Emmy, Brampton, England
I got my name because my mum and dad could not decide which name to give me. Mum wanted Lilly/Lillian and dad wanted a part of his mum's name so they mixed the names up and got Leigh-Ann.
Leigh-Ann, Warwick ,England
My name is Ramani which in the Hindu language means beautiful girl. So that's what my parents agreed on.
Ramani, Telford, England
My name Poppy, my dad chose it because his old cat was called Poppy. It was also my mum's favourite flower.
Poppy, Kintbury, England
I was named Flora after the goddess of plants and vines. My parents love nature and my dad is a forest engineer who looks after sick trees.
Flora, Italy
My name in Tamil means Melody and my granddad loves music so I was named Shuruthy.
Shuruthy, London, England.
My name Heather was named after the plant heather.
Heather, Grangemouth, Scotland.
My name is Zain and I got it from my religion which is Islam. It is one of the prophet's grandsons' names and my granddad chose it. It means beauty.
Zain, Wolverhampton, England
My mum and dad decided on the name because it's a unique name and nobody they knew had the name... My name means in Sanskrit the first ray of sun, beautiful woman and beautiful eyes...
Sushma, Exeter, England
Dev is another name of a Hindu god known as Krishna. My parents got inspired by his ability of connecting with all sections of society regardless of background and decided to give me this name.
Dev, Stanmore, England
I am called Janet after my grandma; she passed away in 1992, four years before I was born. It means 'child of our wishes'.
Janet, Ascot, England
My mum and dad chose my name as if you take the last 'a' off it is the mother of Jesus from my mum's religion and if you put the letter 'm' at the end it is an Islamic name which is my dad's religion.
Marya, Birmingham, England
My name Halima came from one of my dad's favorite foods. He also liked the name so that is how I got my name.
Halima, High Wycombe, England
I got my name from being a Sikh, my mum and dad went to the golden temple and they got the letter G. My full name is Gursimran, but everyone calls me Sim or Simi :) That's how I came to be!
Simran, Braintree, England
I was named after my Great Grandma who lived till she was 98 years old. Everyone in the family thought she was a great role model.
Hannah, Wallington, England
I got my name Sophie Lauren from an actress called Sophia Loren who was a famous film actress.
Sophie, Shrewsbury, England
My name is comes from the Arabic language and it means butterfly, even though I'm not Arabic!
Farasha, Birmingham, England
I was named after a family cat! First I didn't like it but then I started liking my name! How weird...
Kate, London, England
I got my name from Millie Perkins (an actress). My grandad really liked the actress.
Millie, Stafford, England
I was named after Alexander the Great, but because I was a girl they changed to the female version.
My sisters are both named after famous female queens. And my brother was born on halloween so they were going to call him Casper, but of course my dad did not like it. So they called him Gabriel.
Alexandra, Cardiff, Wales
It was the flower my mum and dad got married with and my middle name is a family tradition.
Poppy, Guildford, England
I got my name through one of my mum's university friends. Her friend suggested the name Anisiya, a unique name which not many people have. My mum liked it, so did my dad, and they decided to call me that!
Anisiya, Macclesfield, England
I was named after the girl in the book "The Tiger who came to Tea". My family love it.
Sophie, Ripon, England
I'm named after my aunty Beryl. I'm not really sure what 'Beryl' means, but it's my name and that's who I am!
Beryl, Sheffield, England
I was named after a street in Liverpool and after my mum's friend. My mum used to live down Ebony Street when she went to university, so she thought it was a nice name, and here I am!
Ebony, Grimsby, England
I was named after my great grandma, Amy. She was a feisty Lancashire lady that my mum admired. We kept the same traditional spelling. It is also an anagram of May, the month I was born.
Amy, Chelmsford, England
I was named after my Grandpa Joe. He went to World War II and did not get injured and came home.
Joe, Aberdour, Scotland
I'm named after a lovely old lady that lived next door to my Mum when she was growing up.
Ella, Gloucestershire, England
I was named after Johnny Depp because my mum loves him!
Johnny, Kent, England
I got my name from my Grandma, because she was called Lillian and she liked the flower called lily.
Lily, Nuneaton, England
I was named Daniel after my Dad, but it took a lot of agreement.
Daniel, Portsmouth, England
My sister suggested my name. My parents thought about Bethany, but my sister wanted me to be called Beth.
Beth, Cornwall, England
My mum has an aunt who is Norwegian, and in Norway their goddess of love is called Freya.
Freya, Berkshire, England
I got my name because Hope was the only one they could agree on. When dad liked a name, mum didn't like it. When mum picked a name which she liked, dad didn't like it. In the end they finally agreed on Hope, which they thought was a unique name.
Hope, Aberfeldy, Scotland