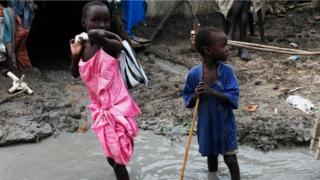 US promises $180m for South Sudan
America is sending $180m (£107m) in aid to help people in South Sudan, where four million people are at risk of starvation.
More than a third of South Sudan's population has been hit, says the United Nations, calling it "the worst food crisis in the world".
Officials say the country is on the brink of famine due to civil war there.
Violence erupted last December when the president accused his deputy leader of trying to take power.
This divided the army into two sides - rebels and government forces - who have fought each other ever since.
The violence has left much of the country in a desperate state.
Watch more Newsround videos