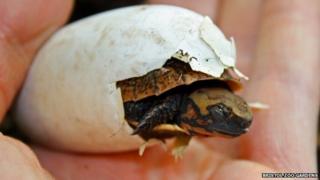 BRISTOL ZOO GARDENS
One of the world's rarest turtles has hatched at a British zoo.
The Vietnamese box turtle is a critically endangered species.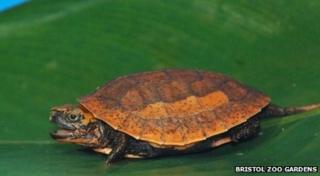 BRISTOL ZOO GARDENS
The newborn emerged from its egg after being kept warm in an incubator for 85 days.
Now the turtle is six weeks old and is the size of a matchbox.
Tim Skelton, Bristol Zoo's curator of reptiles, said: "This is a very difficult species to breed so I am thrilled with the arrival of this baby."
"Little is known about this species so we can learn an awful lot from this baby to improve our chances of breeding more in the future."
Bristol Zoo is working with the Turtle Conservation Centre in Cuc Phuong national park in Vietnam to help safeguard the species.