America is sending $180m (£107m) in aid to help people in South Sudan, where four million people are at risk of starvation.
More than a third of South Sudan's population has been hit, says the United Nations, calling it "the worst food crisis in the world".
Officials say the country is on the brink of famine due to civil war there.
Violence erupted last December when the president accused his deputy leader of trying to take power.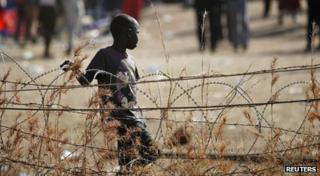 Reuters
This divided the army into two sides - rebels and government forces - who have fought each other ever since.
The violence has left much of the country in a desperate state.
Over a million people have fled their homes, food markets have been wrecked and many have abandoned their livestock and land.
Unicef, the UN's children charity, says 50,000 children are at risk there unless the world provides more aid.
Now UN officials are meeting South Sudan's President Salva Kiir and his opponent, Riek Machar to try to bring the fighting to an end.
South Sudan is the world's newest country and was only created in 2011 after it gained independence from Sudan.