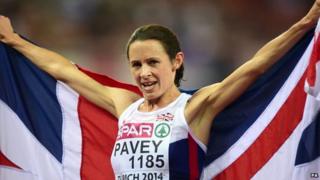 PA
Runner Jo Pavey has become the oldest woman ever to win gold at a European Championships.
She claimed the medal after running 10,000m in 32 minutes 22.39 seconds at the games in Zurich.
She told BBC Sport: "I just can't believe it. I was finding it quite a long way - I was thinking, is this the right event?
"I tried to do a controlled last lap, but when I got to the home straight I thought, just give it all you've got."