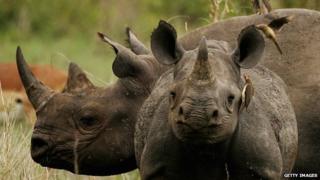 Getty Images
Five hundred rhinos are to be moved from Kruger National Park in South Africa in an attempt to keep them safe.
Officials said the animals could be relocated to nearby countries Botswana and Zambia.
South Africa is trying to tackle a severe poaching problem. More than 630 rhinos have been killed so far this year, and over 400 in Kruger alone.
Markus Hofmeyr, head vet of the national park, said: "We have to take rhinos to where they are safe."
It's thought moving the animals to countries like Botswana - with huge areas of wilderness that are really difficult to get to - could help protect them.
Rhinos are targeted by poachers because their horn is very valuable in parts of Asia. People think it shows you're rich and important.
Prince William has joined the calls to stop the slaughter, calling poaching "ignorant, selfish and wrong".