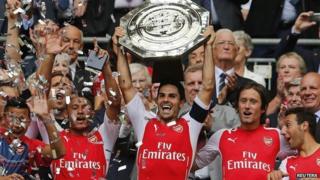 Reuters
Arsenal have beat Manchester City 3-0, to win the Community Shield at Wembley.
The FA Cup winners took the lead after a goal from Santi Cazorla and added a second when Aaron Ramsey found the bottom corner of the net just before half-time.
Premier League champions City came close to equalising when Stevan Jovetic's header hit the post and had a shot saved.
But Olivier Giroud's 25-yard strike in the second half secured Arsenal's win.