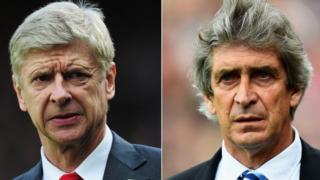 Arsenal v City in Community Shield
Arsenal and Manchester City are going head-to-head in the Community Shield match at Wembley Stadium on Sunday afternoon.
The annual fixture sees the reigning Premier League champions (Manchester City) take on the current FA Cup winners (Arsenal).
City manager Manuel Pellegrini said: "It's not a friendly match - it's an important game."
Arsenal boss Arsene Wenger said: "For both teams it's a check for how good they are."
Watch more Newsround videos