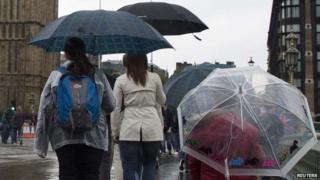 Reuters
Many parts of the UK are being hit by heavy rain and strong winds this Sunday, as the remains of former hurricane Bertha reach our shores.
The storm is moving over southern parts of the country, before heading north towards Scotland on Sunday evening and into Monday.
We want to know if you've been affected by the bad weather in your area.
What's it like where you are? Let us know!
This chat page is now closed but you can read some of your comments below.
Your comments
It's been really rainy and the thunder and lightning is horrendous! When I last saw the lightning it covered my window.
Katherine, Glascoed, Wales
Yesterday it started raining heavily and carried on through the night and around 10am this morning there was thunder and lightning.
Emilie, London, England
We weren't expecting the rain and wind on our holiday and can't wait for the sun to come out.
Billy, Skegness, England
I have been affected by Bertha in my hometown; it turned my street into a ferocious river. In my garden I had a mini waterfall, it was EPIC!
Aki, Bradford, England
I was at a sleepover when the rain hit us. It was coming so fast and hitting the ground really hard. The house nearly flooded - water levels rose extremely high in the garden.
Poppy, York, England
Yesterday it started raining really heavily and went on through the night and now there are really big deep puddles everywhere.
Emilie, London, England
Lovely day here, it doesn't look like it's going to rain. The weather says we are only going to get thunder and lightning on Tuesday.
Kieran, Shetland, Scotland
The weather in Chatham is pretty bad at the moment, with heavy showers and I even heard some thunder. I haven't seen any flooding in my area.
George, Chatham, England
It is pouring with rain and my Dad even had to take the car to the shop just a minute away!
Mahri, Norwich, England
Here, it has been raining cats and dogs non-stop, since around 9am this morning!
Hamza, Dewsbury, England
My gutters and back porch are leaking. The rain and thunder is very loud, and my dog is very wet.
Keiti, Kent, England
Our road has been turned into a river but it's starting to subside.
Alfie, Ryde, Isle of Wight
The rain as not stopped coming down since I got up this morning. My street is deserted.
Joseph, Belfast, Northern Ireland
Yesterday was a really nice day, I went to our swimming pool with my best friend. We were hoping to go today until we woke up to find it raining cats and dogs.
Sophia, Lincolnshire, England
I've been on holiday in Ireland for a week and as soon as we came back it was pouring with rain. I didn't realise why until I watched Newsround and saw the story about the hurricane.
Sophie, Hertfordshire, England
The end of hurricane Bertha is affecting where I am so I'm currently having large thunderstorms and lightning which is causing floods everywhere.
Jasmine, Yorkshire, England
It's chucking it down out here. It feels like Monday's storm again times two!
Emma, Worthing, England
There is lots of wind and it's pouring with rain. There is a stream running down my street.
Lucie, London, England
My area has had quite good weather but today we have had a lot of rain and my nanna's garden is flooding.
Rebecca, Paisley, Scotland
It is really bad here and no one is about.
McKenzie, Tunbridge Wells, England