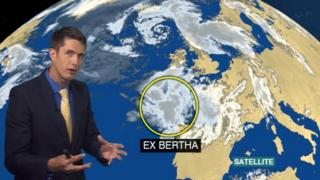 Rain and wind from ex-hurricane
Heavy rain and high winds are hitting the UK - caused by the remains of ex-hurricane Bertha.
The storm is moving over southern parts of the country, before heading north towards Scotland on Sunday evening and into Monday.
BBC weatherman Chris Fawkes told Newsround: "For most of us it's not going to be too problematic. However the rain's going pretty heavy at times and that could lead to big puddles out on the roads and we could have a little bit of surface water flooding."
The Met Office has issued a yellow weather warning of rain for most of the UK.
There are also flood warnings from the Environment Agency for parts of the Midlands and north-east England.
Hurricane Bertha travelled across the Atlantic Ocean over the past week, after hitting islands in the Caribbean.
Watch more Newsround videos