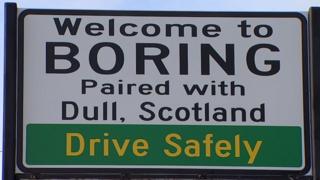 Boring town celebrates Dull pairing
If your Saturday is pretty boring and dull, then you're not alone - it's Boring and Dull Day!
The American town of Boring in Oregon is paired with the village of Dull in Perthshire, Scotland.
To celebrate, the mayor of Oregon has officially declared 9 August as Boring and Dull Day.
The town is named after its founder, William H Boring, who began farming in the area in the 1870s.
Saturday's party will include ice cream, Scottish bagpipes and traditional American folk singing.
Watch more Newsround videos