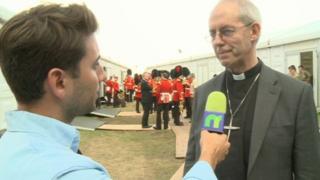 'We should never forget WW1'
The Archbishop of Canterbury, Justin Welby, has told Newsround how important it is to always remember those who fought in World War One.
The Archbishop's granddad was a soldier in the war and he grew up hearing his stories.
Ricky caught up with Archbishop Welby, at a special ceremony in Belgium commemorating the start of World War One, and asked him why we should never forget the war.