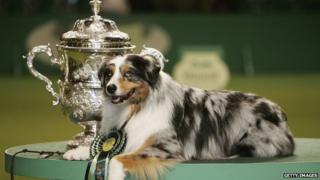 Getty Images
This week saw the Cats Protection's National Cat Awards, where fantastic felines from across the UK battled it out to get their paws on the title of National Cat of the Year.
The awards are now in their 7th year and recognise the cats that have performed outstanding acts of courage, loyalty or determination.
From hundreds of nominations, 17 finalists have been selected across five categories, including Hero Cat, Most Incredible Story and Most Caring Cat.
So with all of these incredible animals being recognised for the things they do for their owners, we'd like YOUR pets to have their moment too.
We want to know what award your pet would get if it could be recognised for anything!
What award would your pet get?
Do you have brave bunny?

Has your dog defied danger?

How about a beautiful budgie's singing voice?

Or maybe a painting puppy?
Tell us what they would win and why.
Your comments
My pet guinea pig, Jaffa, would get 'Most Cheekiest'. He is always stealing food from his guinea pig brother, Pepper.
Charis, London, England
My house rabbit, Nugget, would win the "Most Genius Rabbit" as he has learned an ingenious way of opening our kitchen door!
Sapphire, England
My cat, Squeakie, would win the cleverest cat award as earlier today she climbed onto the table and ate my mum's breakfast...silly cat!
Toby, Epsom, England
My rabbit Cloudy would get an award for having the softest ears.
Jessica, London, England
I think my hamster, Sky, should get the award for the Daredevil Hamster of the Year because she climbs round across the top of her cage with nothing underneath her!
Kira, London, England
My cat Peppy should win an award because he likes me to give him piggybacks. It's really cute!
Millie, Hyde, England
My dog is called Toby and he would win the scruffiest mutt because he digs up holes and rolls around in mud.
Oliver, Norwich, England
My dog would get the award for most tail wagging in a minute!
Cece, England
My dog would probably win the best escape artist, because my dad piles the garden with fences, but somehow, she still gets through to next door.
Amabel, Chorley, England
My cat would win The Cat who Sleeps the Most because he sleeps practically every minute of every day apart from when he eats and he even sleeps outside under bushes!
Abbi, Yorkshire, England
My cat Rosie would win cutest cat award because when I'm in bed she cuddles under my arm.
Daniel, Ashington, England
My dog should get a award for the oldest but most agile award! Because even though Tess (my dog) is old she is always running about and catching balls.
Niamh, Northampton, England
I have a cat with a cute nose which is half pink and half black. She would win the cutest cat in the world award.
Emily, York, England