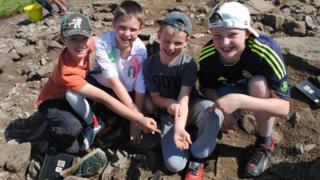 Boys unearth gold from 2,300 BC
We've all dreamed of finding hidden treasure buried in the ground. But for one group of young friends, this dream came true.
Whilst on a summer holiday archaeology project, Sebastian, Luca, Joseph and Aiden unearthed an ancient piece of jewellery.
The 4,000-year-old gold hair tress was found on the dig, which was arranged by the North Pennines Area of Outstanding Natural Beauty in Kirkhaugh, Northumberland.
Newsround's Martin caught up with the boys to talk about about their amazing discovery.
Watch more Newsround videos