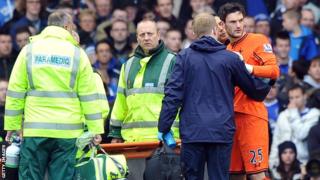 Getty Images
The Premier League is to introduce new rules this coming season on how to deal with head injuries.
A player suffering a head injury must now leave the pitch and the club doctor must decide if a player is able to continue playing, not the manager.
Teams playing at home will need a third doctor available on match-days too.
Last season, Tottenham were criticised for letting keeper Hugo Lloris play on after he lost consciousness in a match against Everton.