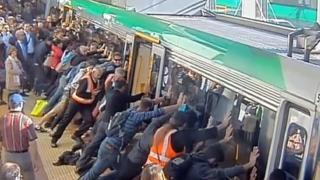 Australians rescue man stuck on train
Dozens of commuters in western Australia have tilted a train to free a man trapped between the carriage and the platform during the morning rush hour in the city of Perth.
Staff and commuters at Stirling station managed to lift the carriage after the man slipped and got his leg stuck.
It took two pushes for the man to dislodge his leg and set himself free.
He was not badly hurt, and caught the next train.
So, the next time you get on a train make sure you mind the gap.
Watch more Newsround videos