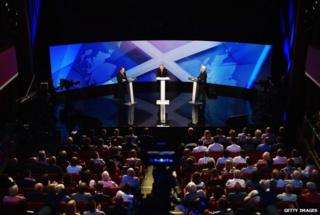 Getty Images
The leaders of the campaigns for and against Scottish independence went head to head last night in a live TV debate.
Scotland's First minister, Alex Salmond, and the leader of the Better Together campaign, Alistair Darling, spent more than an hour putting forward their case for what the future of Scotland should be.
The debate was held in the Royal Conservatoire of Scotland, in Glasgow, in front of an audience of 350 people.
Mr Salmond, who wants an independent Scotland, said the nation was being run by Westminster parties it did not vote for.
Mr Darling, leader of the pro-UK campaign, said independence campaigners had failed to answer key questions such as what currency they would use.
A second debate is to take place on the BBC later this month.
The referendum vote on Scottish independence takes place on 18 September.