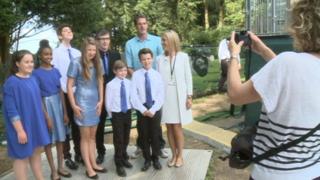 Ricky meets 'The Big Performance' stars
All this week we've been looking at the special events taking place to mark 100 years since the start of World War One.
As part of that six young singer-songwriters have just done the performance of a lifetime.
The stars of CBBC show 'The Big Performance' have been working hard to come up with a song to sing at the BBC's centenary show on Monday night in Belgium.
Ricky went behind the scenes to see how they were feeling ahead of their big moment.
'The Big Performance' is on CBBC at 8:30am all this week and their final performance from Belgium is on Friday's episode.
Watch more Newsround videos