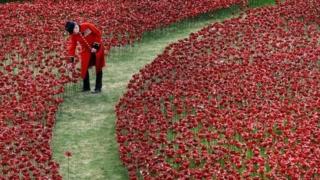 Royals 'plant' special poppies
The Duke and Duchess of Cambridge and Prince Harry visited the Tower of London on Tuesday morning to look at a striking art installation being created to mark the centenary of the start of the First World War.
It features thousands of poppies made out of clay flowing out of a window, down a wall and into the Tower's dry moat.
More than 800,000 poppies are being planted - one for each of the British and colonial soldiers who died.
The poppies are being sold - it's hoped they'll raise up to £15m for armed forces charities.
Watch Jenny's report.
Watch more Newsround videos