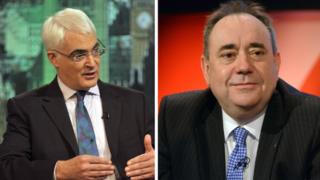 The first live TV debate on whether Scotland should become independent, from the rest of the UK, will take place tonight.
The campaign leaders, on both sides of the vote, will go head to head to try and convince people to vote YES or NO, on the issue.
Scotland's First Minister, Alex Salmond, who wants independence, and the leader of the No campaign, Alistair Darling, will debate in front of an audience of 350 people.
It will be televised live on STV in Scotland at 8pm tonight.
The referendum vote takes place on 18 September.