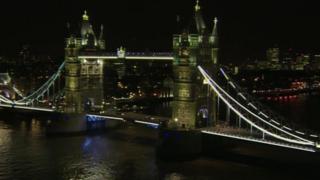 Lights turned off to mark WW1 start
Lights were turned off around the UK in memory of the 17 million soldiers and civilians who were killed between 1914 and 1918 in World War One.
The Royal British Legion's 'Lights Out' event saw households, businesses and public buildings turn out their lights, between 10pm and 11pm last night, to leave a single candle or light burning.
The event was inspired by the words of wartime Foreign Secretary Sir Edward Grey, who said on the eve of WW1: "The lamps are going out all over Europe; we shall not see them lit again in our lifetime."
Royals and world leaders gathered on Monday for ceremonies marking 100 years since Britain joined the war.
The BBC's Huw Edwards reports.
Watch more Newsround videos