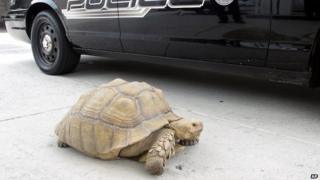 AP
US police have recaptured a giant tortoise after a short chase along the streets of Los Angeles.
It took two officers to lift Clark, the 70kg (150lb) reptile, into a police car.
"The tortoise did try to make a run for it, but our officers are pretty fast," said the Alhambra Police Department.
Safely home
Clark was taken to an animal rescue centre and was later taken home by his owners.
Keeping giant desert tortoises is illegal without a permit, but police will not be prosecuting Clark's owners.
"We enjoy keeping families together, so an exception was made in this case," Alhambra police said.
Clark has been identified as a sulcata tortoise, or African spurred tortoise, which originally come from the edge of the Sahara desert in Africa.