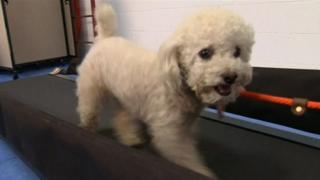 Doggy gym opens in USA
A new and unique gym has opened in Virginia, USA, strictly for dogs only.
It offers a variety of workouts, ranging from treadmill to the obstacle course, but you'll need to have four legs to be able to join.
The owners of Frolick Dogs say it is a safe environment where people can train their dogs and have fun.
Watch Hayley's report to see the dogs working up a sweat.
Watch more Newsround videos