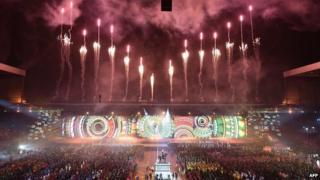 AFP
After 11 days of exciting action, the Commonwealth Games in Glasgow finally comes to an end tonight.
More than 4,500 athletes from 71 nations have competed in 17 sports over the last two weeks.
Kylie Minogue will help end the games with a bang when she performs during the closing ceremony.
But before it's all over we want to know what your favourite bits have been.
What has been your highlight of the Commonwealth Games in Glasgow?
Your Comments
I liked when Bolt used his antics to entertain the crowd and it was really funny, really really funny cause he was like boom pow boom boom boom pow boom boom pow boom boom pow!
Oli, Charlbury, England
My highlight of the Games was when Claudia Fragapane did that brilliant floor routine.
Debbie, Welywn Garden City, England
Claudia Fragapane winning her 4 gold medals.
Rachel, Dunedin, New Zealand
My favourite part was when Erraid won her bronze medal for Scotland at only 13-years-old!
Ellie, Altrincham, England
I really enjoyed seeing the Brownlee brothers swim in the river!
Emma, Holmbridge, England
Frankie Jones winning 5 silvers and 1 gold for Wales and Claudia Fragapane winning 4 golds for England.
Isaac, Pembrokeshire, Wales
My highlight of the Commonwealth Games was definitely the gymnastics - there were some really talented gymnasts competing. In particular, I loved watching Max Whitlock. He's amazing on all apparatus, and won the Men's Individual All-Round Artistic Gymnastics gold medal, along with his gold medal for the Men's Team Final, and the Men's Floor Final. He also got silver in the pommel horse, and bronze for rings. He's inspired me to want to try gymnastics myself.
Lavender, England
I went to see the swimming and seeing Amy Wilmott was amazing!
Amy, Somerset, England
I think when Claudia won gold in the gymnastics and when England won the men's 4x400m relay and the women got the bronze in both the 4x100 and 4x400 rely well done England and the rest of the home nations.
Carenza, Colburn, England
My highlights from the Commonwealth Games are the swimming diving and boxing.
Emma, Falkirk, Scotland
My highlight was David Katoatau winning his gold medal for Kiribati in the weightlifting.
Yuki, Kempston, England
The Brownlee brothers are amazing this Commonwealth Games and have been really inspiring!
Oliver, Bristol, England
Claudia Fragapane was amazing in the gymnastics and Erraid Davies was brilliant in the swimming. All the events inspired me to try something new.
Freya, Berkshire, England
Tom Daley was brilliant at the diving, especially when he enters the water.
Ethan, Maidstone, England
My favourite highlight was Usain Bolt was running like a shooting star that was my favourite highlight.
Sameer, Glasgow, Scotland
I liked it when Usain Bolt won the relay race.
Anisah, London, England
I liked watching the gymnastics because it is my favourite sport in the entire world. Also the athletics and field events its awesome how high they go on the pole vault.
Tilly and Jessica, Scarborough, England
Tom Daley doing his amazing dives they were positively the greatest dives ever.
Ali, Warrington, England
Of course the gymnastics was fantastic Claudia Frangapane won GOLD!! all my family were amazed and it got me inspired as now i do gymnastics every day!!
Lalage, Bicester, England
I liked when the gymnastics was on and Scotland got gold... I LOVE YOU SCOTLAND!!!
Erin, Fife, Scotland
My favourite part was gathering round the TV and supporting our nation.
Ruby, Canterbury, England
My Commonwealth highlight was when the women's England hockey team got silver.
Isobel, Oxford, England
My favourite moment was when Usain Bolt started dancing before the 4x100 meter relay.
Prentice, Nottingham, England
I loved the swimming and diving. Especially when Tom Daley won his gold medal!
Jenisha, London, England