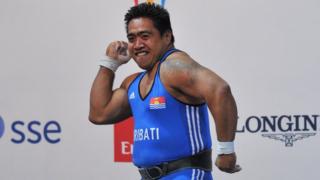 Weightlifter dances to historic gold
David Katoatau wins Kiribati's first ever Commonwealth Games gold medal by finishing first in the men's 105kg weightlifting, and dancing with delight in celebration at Glasgow 2014.
Katoatau smiled as the national anthem of Kiribati was played at the Clyde Auditorium before the enthusiastic crowd burst into a round of applause.
Kiribati - which won independence from the United Kingdom in 1979 - is a group of islands in the Pacific Ocean with a population of just over 100,000.
Watch more Newsround videos