The home nations scored a sweep of all three medals in the men's all-around gymnastics final.
England's Max Whitlock was untouchable and led from the start to claim a deserved second gold of the Games.
But it was very close between Dan Keatings of Scotland, who took silver, and Nile Wilson of England who won bronze.
Max got the highest score on four out of the six pieces of apparatus, dominating the whole event.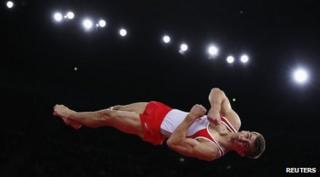 Reuters
It's his second gold medal of the Games after England's men won the team event yesterday.
Beth Tweddle, a former British gymnastics star, said: "Max Whitlock has stolen the show. I knew he wouldn't play it safe, everything was done to full virtuosity.
"The silver medal will mean everything to Daniel Keatings. As soon as he landed he had such elation on his face. He missed out on the Olympics and took that hard. This is his home games and I am so excited for him," she continued.
"Max Whitlock burst onto the scene at the Commonwealth Games in Delhi of 2010 and Nile Wilson could emulate Max's success in four years' time. There is a lot to come from him."