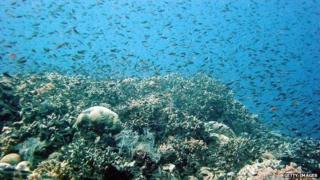 Getty Images
Australia has approved a massive underground coal mine and rail project that would produce 60 million tonnes of coal a year for export.
It could potentially be one of the largest mines in the world and would provide electricity for up to 100 million people in India.
The decision has angered conservationists who say it may threaten the Great Barrier Reef, one of the world's most famous wonders of nature.
Conservationists are worried about the plans to ship the coal from the mine through the reef coast.
They are also concerned about plans that would allow the mining company to dredge material from the seabed so large boats can dock.
But, the Australian government say there will be strict rules to limit any damage.
Environment Minister Greg Hunt said: "The absolute strictest of conditions have been imposed to ensure the protection of the environment, with a specific focus on the protection of groundwater."