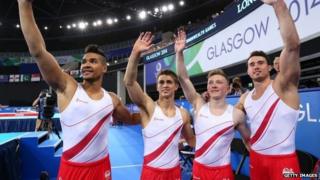 Getty Images
England won the gold medal in the men's team gymnastics final and Scotland take silver.
The team was made up of Louis Smith, Max Whitlock, Sam Oldham, Kristian Thomas and Nile Wilson.
This is the first time since 2002 that England have won the team competition and the first team gymnastics medal that Scotland has ever won.
England's men had led at the halfway stage ahead of Tuesday's vault, parallel bars and high bar apparatus.
Unfortunately, Sam Oldham landed awkwardly after his vault and was carried from the apparatus after clutching his left ankle, before leaving the arena shortly afterwards in a wheelchair.
This meant England were left to compete on the parallel bars and high bar with a man down, with three scores needed on each to go towards the team total.
AFP
But pommel horse specialist Smith delivered on the parallel bars and was bettered by Whitlock and Wilson.
The final rotation saw England on the high bar and Scotland on vault, with Whitlock again sticking a clean routine as he topped the all-around qualification.
Elsewhere, England claimed two further gold medals in shooting. David Luckman claimed his second gold medal of Glasgow 2014 in the full-bore Queen's Prize individual event and Dan Rivers won the men's 50m Rifle 3 Positions final.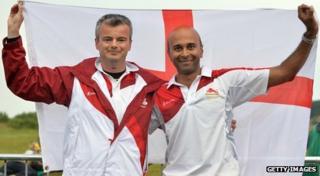 Getty Images
Scotland's Jen Macintosh also got a place on the podium after winning silver in the 50m rifle 3 positions event, claiming her second medal of the Games. The 23-year-old won bronze in the 50m rifle prone on Monday, having claimed two golds and a bronze in Delhi four years ago, making her the first Scottish woman to win five Commonwealth Games medals.
In wrestling, Wales won a first ever Commonwealth Games medal in the event when Craig Pilling took the bronze in the men's 57kg discipline.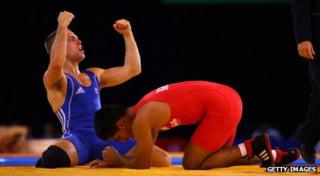 Getty Images
Yana Rattigan won silver for England in the women's freestyle 48kg event. The 2013 European silver medallist couldn't complete her impressive comeback in the final seconds as she slipped to defeat by Indian Vinesh.