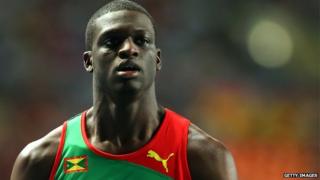 Getty Images
Every day, Newsround will bring you a daily guide to the main events, big names and best stories at the Glasgow 2014 Commonwealth Games.
We will look ahead to where and when we might expect some of each day's key moments.
Gold medals to be won today:19. Athletics (men's 400m, high jump and long jump, women's 3,000m steeplechase, shot put, javelin and heptathlon), diving (women's 3m synchro and 10m synchro, men's 1m), gymnastics (men's and women's artistic all-around events), weightlifting (women's +75k, men's 105kg), wrestling (men's 61kg and 97kg, women's 53kg, 58kg and 69kg).
Highlights include:
09:00 - Hockey: Scotland vs England women starts the day in the final group game for both teams, who aim to finish in the top two of a section which also includes an in-form Australian team. Wales play Malaysia in the following game.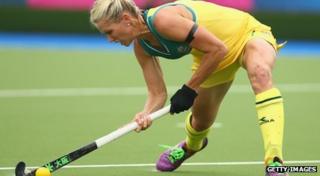 Getty Images
Scotland and England have been kept apart in the men's tournament, where the group stage finishes a day later with the Commonwealth hosts against Australia and England against Canada. Scotland's men will need to get past Australia and India to reach the semi-finals.
10:00 - Diving: The opening final of the 2014 diving programme is the women's 10m platform synchro, closely followed by the women's 3m springboard synchro. Australia's Melissa Wu will look to defend her 10m synchro title from Delhi 2010 with partner Rachel Bugg.
Canadian chef de mission Chantal Petitclerc has called his team's divers as "the team to beat" in Glasgow - they feature double 2010 champion Jennifer Abel in the 3m synchro alongside Pamela Ware.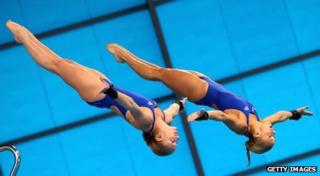 Getty Images
Tonia Couch and Sarah Barrow are England's leading contenders in the 10m synchro event, with Rebecca Gallantree and Alicia Blagg challenging in the 3m.
16:30 - Wrestling: Five gold medals can be won on the second of three days of wrestling at Glasgow 2014, with three women's weight categories - 51kg, 59kg and 67kg - alongside two for men, 60kg and 97kg.
Indian wrestlers won 10 of the 21 available titles at Delhi 2010 and will hope to be just as dominant in Glasgow. India have reportedly set an ambitious overall target of 125 medals at these Games.
Leon Rattigan, who won bronze in the men's 97kg category in 2010, returns to the English team alongside wife Yana and competes on Wednesday.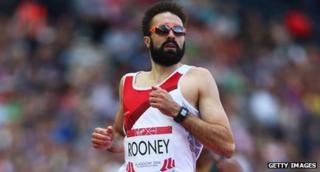 Getty Images
19:00 - Athletics: The men's 400m sees Grenada's Kirani James - the Olympic champion - set to face bronze medallist Lalonde Gordon of Trinidad and Tobago. Martyn Rooney races for England.
Other sports today: Badminton (singles and doubles preliminaries), boxing (quarter-finals), hockey (09:00 Scotland women v England, 11:00 Malaysia women v Wales, and other group stage matches), lawn bowls (Para-sport open triples B6/B7/B8 semi-finals), netball (17:00 Scotland v Northern Ireland, 19:00 Barbados v England, and other group stage matches), squash (doubles pools), table tennis (singles and doubles preliminaries).