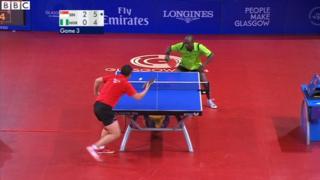 Epic 41-shot table tennis rally
If you haven't had chance to watch any table tennis yet then that's about to change.
In the second match of the men's team table tennis semi-final at Glasgow 2014, Nigeria's Segun Toriola was playing Singapore's Ning Gao.
They played an incredible 41-shot rally, hailed by the commentators as the 'point of the Games' and met by a huge applause from the crowd.
Normal rallies are much shorter than this and to keep it going so long shows how evenly matched the two men were.
Watch this and try not to get dizzy!
Watch more Newsround videos