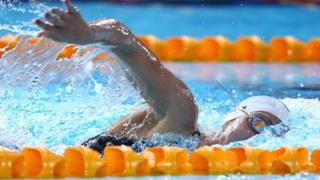 PA
Every day, Newsround will bring you a daily guide to the main events, big names and best stories at the Glasgow 2014 Commonwealth Games.
We will look ahead to where and when we might expect some of each day's key moments.
Gold medals won today: Athletics (men's 110m hurdles, hammer throw and decathlon, women's 400m, 1500m, 10,000m and triple jump), cycling (men's and women's mountain bike events), gymnastics (men's and women's artistic team events), shooting (men's trap, 25m rapid fire pistol and 50m rifle three positions, women's 50m rifle three positions, Queen's Prize), swimming (men's 50m free, 1500m free, 200m medley, 4x100m medley relay, women's 400m free, 50m back, 4x100m medley relay and Para-sport 200m SM10 medley), weightlifting (women's 75kg, men's 94kg), wrestling (men's 57kg, 94kg and 125kg, women's 48kg and 75kg).
Highlights include:
12:45: Shooting: Tuesday marks the climax of the Commonwealth shooting event with the individual Queen's Prize, a full bore target rifle event unique to the Games: competitors fire at targets across a range of distances in an event supposedly inaugurated by Queen Victoria who, in 1860, offered a £250 purse to the winner of the first such tournament.
Northern Irish full bore shooter David Calvert returns to the Commonwealth Games for a 10th time as part of the team for Glasgow, having won four gold and four bronze medals since his debut at the Edmonton Games of 1978.
11:30: Mountain bike: Canada's Catharine Pendrel is a former world champion and will start among the favourites in the women's cross-country event on the new Cathkin Braes mountain bike trails, to the south of Glasgow.
Mountain biking returns to the Games having been dropped in Delhi four years ago. Since its debut on the programme in 2002, Canadians have won three of the four available gold medals, a run interrupted only by England's Liam Killeen in the 2006 men's race. In 2014, there is no Killeen but London Olympian Annie Last will be one of England's leading contenders.
This year, the Western Isles' Kerry Macphee will race for Scotland in the women's event having transferred from triathlon in a scheme designed to maximise Scottish medal potential, while Kenta Gallagher is one to watch for the hosts in the men's race.
Gallagher elected to ride for Scotland despite having the option of competing for England: "I've lived in Scotland all my life and all my friends are Scottish. I don't think they'd approve if I turn up for a Commonwealth Games in Scotland wearing a St George's cross on my back," he said in 2012.
16:30: Artistic gymnastics: Both team finals promise to deliver one of the biggest home-nations battles of the Games, particularly a men's event which splits Great Britain - one of the world's leading teams - into England and Scotland.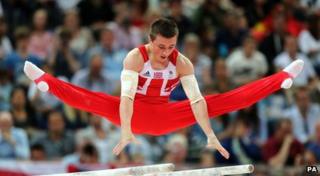 PA
London 2012 silver medallist Louis Smith, overlooked by GB for this year's European Championships, has nevertheless secured selection to the English team for Glasgow 2014 having mounted a high-profile nine-month comeback to gymnastics. While Smith is a pommel horse specialist, team-mates Kristian Thomas, Sam Oldham and Max Whitlock will be England's big hitters on all six apparatus in the team event.
For Scotland, Dan Purvis and Daniel Keatings are the stars of the show: both have won world medals in the past and Purvis was part of GB's bronze medal-winning team at London 2012. They are joined by Frank Baines, a former European junior all-around champion who represents Scotland's next generation at the age of 19.
In the women's team event, England can call on the considerable world-class experience of Rebecca Downie and Hannah Whelan, alongside exciting younger talents such as Ruby Harrold and Claudia Fragapane. Raer Theaker leads a young Welsh team while India McPeak, who competed in her first world championships for Ireland last year, is on the Northern Ireland team. Canada and Australia will both field strong women's squads led by Victoria Moors and Lauren Mitchell respectively.
19:00: Swimming: The last night of swimming action features the two 4x100m medley relays alongside the women's 400m freestyle, which may be another chance for Wales' Jazz Carlin to impress. Australia's Bronte Barratt has been Carlin's closest rival over this distance so far in 2014.
The longest men's event on the programme, the 1500m freestyle, is a chance to see 18-year-old Mack Horton , billed as the leading light of Australia's next generation of swimming talent. England's Daniel Fogg is tasked with stopping him, while London 2012 silver medallist Ryan Cochrane will be defending the Commonwealth title he won for Canada at Delhi 2010.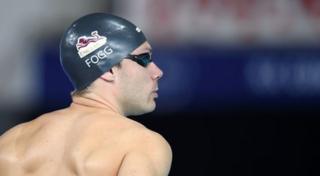 PA
19:30: Weightlifting: The men's 94kg category pits England's Sonny Webster and Owen Boxall against Scotland's Peter Kirkbride. Kirkbride, 26, competed at London 2012 despite suffering a torn biceps muscle mid-event, while Boxall is the current British champion. Faavae Faauliuli, the Samoan who narrowly beat Kirkbride to Commonwealth gold in India four years ago, will be back to defend his title in Glasgow.
The women's 75kg class features England's Mercy Brown, who broke eight British records when she earned her qualification for Glasgow 2014 at the British Student Championships in March. Brown faces tough competition from Canada's top female weightlifter, Marie-Eve Beauchemin-Nadeau, who won silver in the event at Delhi 2010.
Nigeria will be the nation to watch in the weightlifting tournament as a whole - their lifters picked up four gold medals at the Delhi Games and the team's coach has vowed to double that figure in Glasgow.
Also: Badminton (singles and doubles preliminaries), boxing (men's quarter-finals), hockey (09:00 New Zealand men v England, 16:00 Wales men v South Africa, and other group stage matches), lawn bowls (preliminary rounds), netball (09:30 England v Trinidad and Tobago, 17:00 South Africa v Wales, 19:00 Malawi v Scotland, and other group stage matches), squash (doubles pools), table tennis (singles qualifying round).