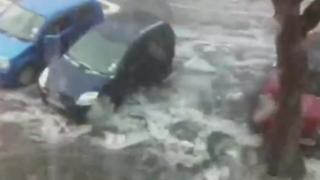 Extreme summer weather conditions
The sweltering summer weather took a short break this weekend as extreme conditions hit parts of the country.
Lightning strikes, hail, torrential rain and flash flooding have had major effects on people across east and south-east England.
London Fire Brigade said that it was helping people trapped in their cars across parts of the capital, and one road was described as a 'river of hail'.
East Sussex Fire and Rescue Service said it had received around 300 calls within a few hours, while a further 60 calls were passed on to Cambridgeshire Fire and Rescue Service.
Brighton and Hove police have told people to not enter flood water on foot or in cars.
This video contains flashes.
Video clips sent in by: Tim Porter, @yezzer, Kieran Woods, Iain Holder and Howard Baker.
Watch more Newsround videos