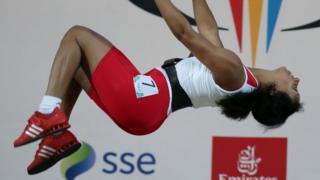 Zoe celebrates gold with back flip!
England's Zoe Smith completes a successful final lift to win weightlifting gold in the 58kg category, and celebrates with a brilliant back flip.
The 20-year-old from London set a new Commonwealth Games record
Zoe beat Nigeria's Ndidi Winifred into second, with Welsh veteran Michaela Breeze taking bronze.
Watch the weightlifter in action!
Watch more Newsround videos