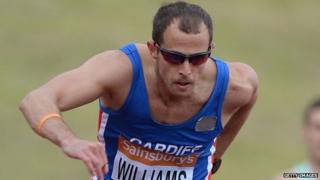 Getty Images
Welsh athlete Rhys Williams is out of the Commonwealth Games charged with breaking the rules: known as an anti-doping violation.
The 400m hurdler and Wales athletics co-captain says he's "utterly devastated" and that he hasn't taken any banned substance that he knows of.
"As a professional athlete, I have always supported and have been an advocate of clean sport," he said.
His suspension comes after a test at the Glasgow Grand Prix on 11 July.
A statement from Team Wales says he can now "respond to the charges against him" and have his case heard by the National Anti-Doping Panel.
Williams is the second Welsh athlete to miss the Games over alleged drug violations.
He said: "I am utterly devastated about the news of this anti-doping rule violation, which has come as a great shock to me.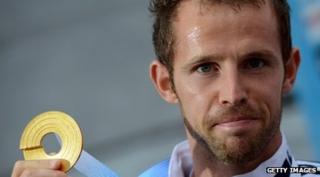 Getty Images
"I would strongly like to state that I have not knowingly taken any banned substance.
"However, I recognise that the responsibility for this situation lies with me and I'm committed to working with UK Anti-Doping and will fully cooperate in the legal process."
'Real shock'
It's the latest threat to Welsh hopes of Commonwealth medals, after the loss of a number of stars including triathletes Non Stanford and Helen Jenkins, as well as cyclist Becky James.
Reacting to the news, Baroness Grey-Thompson, who won 11 Paralympic gold medals, said: "I don't think we ever would have expected anything like this from him.
"It is a huge blow for Wales and for athletics. It's a real shock right now."