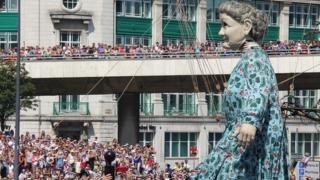 Liverpool crowds greet giant puppets
Thousands of people have lined the streets of Liverpool to welcome three giant marionette puppets.
The puppets will tell the story of Liverpool's role during World War One.
A spokesman for the display said the puppets would tell the story of "happy people who went away in 1914 with the King's Regiment" to fight for their country.
Those "happy people" were the Liverpool Pals - groups of local men joined the army and served together in World War One.
Some of their stories will be told in the show.
See pictures:
Watch more Newsround videos